Shell Shockers is a breathtaking shooting game taking you to the fiercest arenas in the world. Become an egg gunner and shoot down enemies to earn golden eggs.
The gameplay of Shell Shockers
Play this game now to explore the world of egg gunners created by Blue Wizard Digital. In this world, you will transform into an egg shooter who is armed with different kinds of powerful guns. First, let's enter your cool nickname to impress other players. Then, you need to choose between 7 servers. They are Singapore, Sydney, US Central, Germany, US West, US East, and Chile. I suggest you can try all servers to get an opportunity to make new friends from all over the world. If you do not want to join an available lobby, you can create a private lobby. Next, you need to share the link with your friends to invite them to join it.
Choose between four game modes
After choosing the server, you need to select between four game modes with different playing rules.
King Of The Coop: In this mode, you and other players play as two teams including the red team and the blue team. The objective of each team is to capture the coop. If all members of the team can capture this coop, this team will become the winner.
Teams: This mode is designed to satisfy players who want to play as a team. Your goal in this mode is only to take down as many members of the opposite team as possible. The more enemies you can shoot down, the higher rank you will get on the leaderboard.
Free For All: This mode has the fiercest arena as you need to fight against all egg gunners in the arena. When playing this mode, you must stay alert and be ready to shoot at all times. The number of enemies you can eliminate will affect your rank on the leaderboard. Note that this mode has no time limit, so you can spend all day competing with other players from all over the world. If you die, don't worry because you can revive after 5 seconds.
Capture The Spatula: Your target in this mode is a golden spatula and the enemy taking this spatula. Therefore, you and your teammates have to join forces to steal the spatula from your rivals' hands. If your teammate gets the spatula, you must protect him or her from the attacks of your foes at all costs. Otherwise, if you get the spatula, you must escape from the attacks of your enemies and keep it until the fight ends. The winner will be the team who has this spatula.
Utilize power-ups
The fight in this game is not only thrilling but also dangerous. Therefore, if you want to increase your chance to live and win, you must utilize the power-ups. During the fight, you can get two power-ups which are the Egg Breaker and Hard Boiled. If you want to get the Hard Boiled power-up, you need to continuously kill 5 enemies. This power-up will help to refill your health bar. If you get hit, the effect of this power-up will disappear and you will still be alive.
The second power-up in this game is Egg Breaker. This power-up will be activated after you continuously take down 10 foes. This power-up will boost your power and cause more damage to your enemies. Normally, this power-up will lose its effect after 15 seconds. However, you can lengthen the validity of the power-up by killing as many enemies as possible.
Join a mini-game
This game offers a funny mini-game called Chicken Nugget. In this mini-game, you will see three similar eggs. Each egg contains a distinct reward. Your mission is to use a hammer to crack one of the offered eggs to get a surprising reward. Note that you can play this mini-game for free once per hour. You should play it regularly to earn as many golden eggs as possible.
Controls
Use WASD keys to move.
Use the Spacebar to jump.
Click the left mouse button to shoot at opponents.
Use an F key to use an egg beater to attack enemies at a close distance.
Use an E key to change your weapons.
Use a Q key to throw a grenade.
Use an R key to reload ammo.
What makes Shell Shockers unique?
Various guns
This game offers hundreds of guns. You use your golden eggs to buy them in the shop. In general, these guns are classified into 7 kinds. Each kind of gun has a distinct feature. Moreover, all guns are not realistic and are designed in a cartoonish style. Therefore, the game is safe for players of all ages. Keep in mind that you need to think carefully before choosing a gun.
EGGK - 47: It is the most classic gun that you often meet in all shooting fights. This kind of gun has a high rate of fire and a medium range. Moreover, it never jams when you use it to shoot enemies.
Scrambler: This gun has two barrels, so it can fire two bullets at the same time. As a result, it will cause more damage, but it is only suitable for a melee attack.
Free Ranger: This gun allows you to aim accurately and shoot down your enemies from a far distance. However, one weakness of this gun is that it cannot fire constantly.
RPEGG: This gun has a small magazine and a medium ranger. However, it can cause big damage. For example, this gun can kill a rival with one shot if you shoot at the center of his body.
Whipper: Unlike other guns, this gun can contain more bullets and fire constantly. It has a medium ranger.
Crackshot: This gun is hard to use, so many gunners do not like it. You have to waste time reloading the ammo after shooting one shot. Actually, it is only suitable for snipers who hide in secret places.
Tri-Hard: The final gun in this game is Tri-Hard which can fire three bullets at the same time. You can aim more accurately when using this gun. Its ranger is medium.
Many game maps
When you play this game, you will certainly be surprised by the number of game maps in this game. There are a total of 57 game maps in the game. Specifically, they are Helix, Dirt, Castle, Bastion, Bridge, Blender, Death Pit, Down Fall, JailBreak, Shipyard, and so on. Particularly, all game maps are available for gameplay. If you play with other players, the game map will be chosen at random. If you create a lobby and play with your friends, you can choose one of the game maps.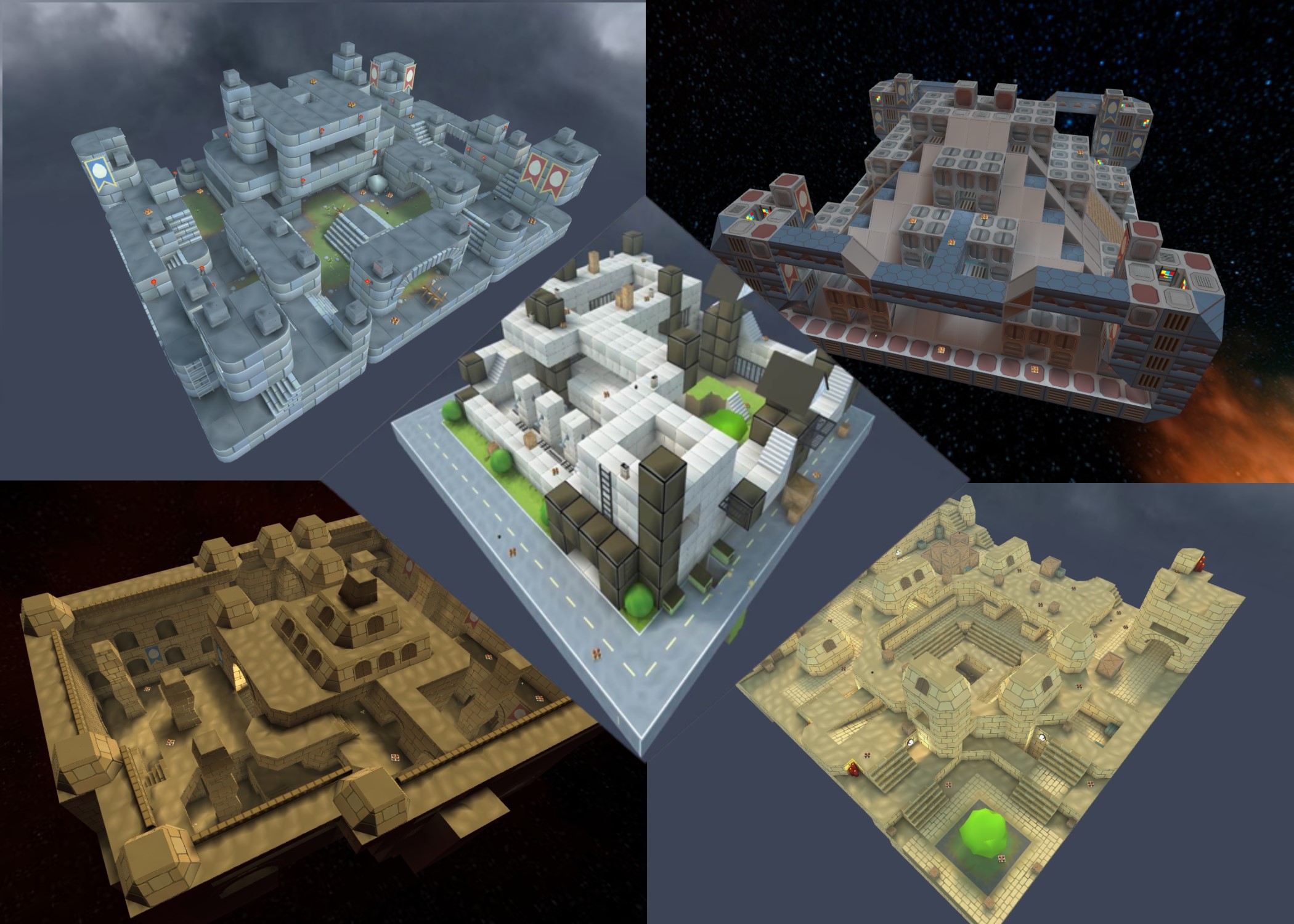 Public maps
Selecting a suitable game map is also a tactic that helps to increase your winning chance. Here are some public game maps that every player can play on.
Bastion: The release date of this map is May 1, 2020. This bastion has two sides. They are the blue side and the red side. In general, the structure of the two sides is similar. You and other players will enter the courtyard in the center of the bastion to join the shooting fight. As this map has a complex structure and many towers, you can hide in the tower and assassinate your enemies from a far distance.
Catacombs: Launched on November 1, 2020, this map has three floors including a bottom floor, a middle floor, and a top floor. On this map, you need to run through long tunnels to find your enemies.
Downfall: The developer launched this map on March 1, 2021. The structure of this map is very special because it is tall and narrow. There are four sections including green, blue, orange, and black sections. You can climb on the high sections and shoot at rivals in the lower sections.
Enchanted: On February 1, 2022, this map was released and impressed many players because of its impressive design. The map looks like a dream castle which is blue and pink. Moreover, many clouds are flying around the castle. In the castle, there are many rooms. You can hide in one of the rooms to avoid the attacks of your rivals.
Private Map
In the private mode, you can select some private maps. One of them is Sky Scratcher. This map was introduced in June 2021. It looks like a tall military base including four layers. They are an outer ring, a ground floor, a middle floor, and the top floor. There is a ladder that connects the top floor and the ground floor. When climbing on the ladder, you need to be careful because your enemies can attack you from behind. It is a good idea to eliminate all gunners on the same floor before climbing the ladder.
Many events
The most interesting thing about this game is the special events that occur on special occasions every year. In these events, you can claim many surprising gifts. Here are some outstanding events in the game that you should remember.
Thanksgiving Event: This event is named 'It's Corn'. It occurs in November every year. In this event, you can buy limited-edition turkey-themed stamps, hats, and weapon skins at lower prices. Furthermore, this event introduces Thanksgiving skins which are sold in the shop. You can use the gold eggs you earn to purchase them.
Halloween Event: This event is organized in October every year. In this event, you can purchase many spooky stamps, hats, and weapon skins in the shop. Moreover, this event introduces three special maps which follow the spooky theme. They are Jinx, Haunted, and Mansion.
Christmas Event: This event is named 'Crackin' Eggs Mas' and occurs in December every year. To celebrate Christmas, the developer will add more Christmas-themed stamps, hats, and weapon skins. You can buy them in the shop.
New Year's Event: You can join this event in January every year. Besides new stamps, hats, and weapon skins, this event will introduce a stamp depicting the numbers of the new year.
Black Friday: This is an important event occurring yearly. In this event, all skins and weapons are on sale, so it is an opportunity for you to buy your favorite ones.
New and impressive updates of Shell Shockers
Blue Wizard Digital developed this game and initially launched it in September 2017. Until now, the developer updates many new features for the game constantly. Therefore, whenever the players join the game, they always feel surprised by the awesomeness of the game. It is also the secret behind the success of this FPS game. In April 2023, the developer updated a new map. It is Outer Reach. There are two castles and a forest on the map. The forest is full of pine trees, so you can stand behind the pine trees to dodge the notice of your enemies.
In addition, this year, the creator updated a new feature which is Shell Shockers VIP Club. It is possible to say that it is one of the most impressive updates of the game.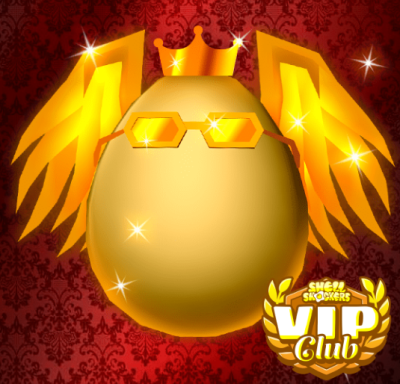 If you join the VIP Club, you will claim many advantages. The VIP member will claim more eggshell colors and egg doubler. Moreover, every month, you will obtain 2 free premium items. It is impressive, isn't it? Why don't you sign in to the VIP club now? There are three VIP packages including 6 dollars for a month, 14 dollars for three months, and 49 dollars for 12 months.
Feedback about Shell Shockers by critics and players
Right after the release date, this game attracts many players from all over the world and receives hundreds of positive reviews. Because this game is playable on the browser on both PC and mobile, players can play it easily. Fans of shooting games express their love with the addicting gameplay and stunning 3D graphics of this game. In addition, critics also give flattering compliments about this game. They said that the developer is really smart when using the first-person perspective in this game. This will help to bring the most immersive and realistic experience for players. According to critics, Shell Shockers can be ranked among the best shooting games of all time.
Shell Shockers.io
Shell Shockers.io is a world-famous multiplayer shooter of the .io FPS game genre. Let's start this game by choosing a name for your egg character. A unique and cool name that will make your opponents not forget you. Before you are ready to click the Play button to join this ultimate online egg shooting game, remember to customize your egg and choose the game mode you want. Now, do your best to protect yourself from the opponent's bullets. At the same time, prove your shooting ability by killing as many opponents as possible.
Conclusion
In a nutshell, I recommend you try playing this game now to join thrilling shooting battles. It is an opportunity for you to show off your shooting skills, so don't miss it. You can invite your friends or relatives to play this FPS game together if you find it interesting.